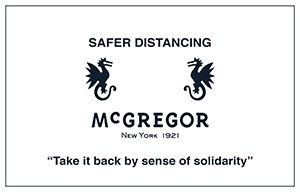 – SAFER DISTANCING –
– より安全な距離を保とう –
"Take it back by sense of solidarity"
"皆の大事を取り戻そう"
CEO Message from McGREGOR New York 1921
Who could have expected that the most harsh calamity ever from WWⅡ distress our days. Only a few months ago, most of humanity did not know what COVID-19 was, now the motto
`social-distancing` and `stay-at-home` took place of `make the country great again` and `Exit from community`. We, McGREGOR who has just a century history from 1921 over conflicts and growths have a little wisdom and proud to survive.
Should you come to think of us being neared by rectangles as cell, commuters, office, currencies while our bodies and souls still curvaceous, flexible and creative, now is the time we talk and write, read and think, dream and care: people, nature and future.
We, McGREGOR, stay for coming century with this wonderful universe.
McGREGOR New York 1921 CEOメッセージ
先の大戦以来、最も過酷なこの惨禍が私たち世代に訪れることを誰が予測したでしょうか。ほんの数か月、人類の殆どはCOVID-19が何であるかを知らず、今や「人と人の(物理的)距離を」「家に居よう」というスローガンが「我が国を再び偉大な国に」「離脱しよう」に代りました。1921年創業以来、争いと成長を生き抜いた私達McGREGORにも多少なりとも、斯様な状況を生き抜く英知と誇りがあります。
考えてみれば、私達の周囲は、スマートフォン、通勤電車、オフィスビル、紙幣など四角四面で窮屈なものに囲まれていますが、人類の心身は曲線的で、柔軟で、創造的です。ゆえに今こそ、私達は対話し、したため、読み込み、思い耽り、夢憧れ、思いやりましょう。人々を、自然を、そして未来を。
私達McGREGORは、次の世紀も、この素晴らしい世界と共にあり続けます。